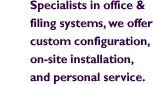 We don't really think of ourselves as small, more like...efficiently scaled!
And what does family owned mean to you? It means you get a friendly atmosphere
and a full-time team...we even talk about how to serve you better over our dinner!

Being flexible means we offer more than just filing supplies...much more.
Please look over our list of products. Our large warehouse is kept stocked with a
complete range of office supplies.

We've been catering to clients in Pennsylvania, Delaware, New Jersey, Maryland,
Virginia and beyond since 1984. Now we'd like to make a visible difference in
your office.

P.S. If you have any questions at all, or for more information, please contact us.